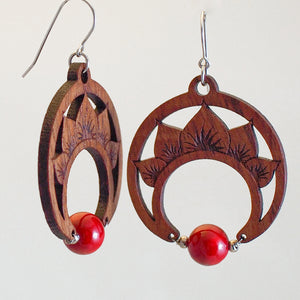 Red Lotus
Need a little bit of red? These won't leave you hanging!
Reclaimed mahogany, engraved double-sided (for when you have your hair up) with a lotus flower design, highlighting a beet-red dyed river-stone.
Finished with a food-safe oil made with lemon and vitamin E.
Height with ear wires: approx. 2.5" x 1.5" wide (65 x 39mm)
Please note: Wet cleaning, swimming or showering with wood earrings is not recommended, but a light cutting board oil will refresh them.